From school that is! YAY! Gotta love that, & boy I sure do! I think I might even do some creating tonight with my scrapbook supplies!!!
We went back to the Insta-Care today and had the stitches taken out of my baby's head. He was a trooper. I am surprised at how great his head looks. For as deep as the wound was, the scar isn't going to be too bad.
I sent out Luau invites for my parents today. Glad I can check that off of my to do list.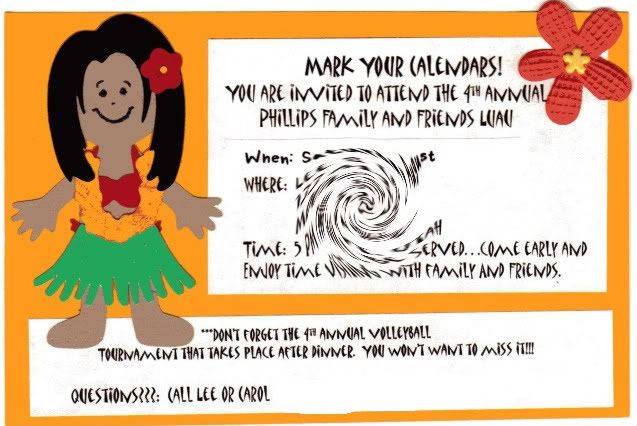 I wanted to post one (with the info blurred out of course!) because they took FoReVeR and a day to make! That little hula girl was 9 separate paper piecings and then I had to draw her face and cheeks. I did some inking on her as well. What was I thinking?? LOL! I had to make 25 of those things! Next year perhaps I should do something not quite so time consuming. We shall see.
Well, I do have laundry to do and the Tour to watch, so I suppose I am off for now!
Until next time. . .